Upcycle Kitchen: a Creative Approach to Food Waste Reduction in Guelph
What happens to all the ugly fruits and vegetables? The sad reality of the Canadian food industry is that we waste $31 billion in food annually, often times because products don't live up to the cosmetic standards of grocery stores. This food waste has negative economic, ethical, and environmental outcomes and is a major source of greenhouse gas emissions in Canada. So, what can you do with malformed but still fresh food? There are many things you can make with ugly produce – tomato sauce, canned fruit, soup and dip mixes – the possibilities are endless!
What Is Upcycle Kitchen?
Upcycle Kitchen, a new project in Guelph, is looking to address the challenge of cosmetically damaged food and food waste in the city. Upcycle Kitchen is run by the SEED, an award-winning community organization that delivers programs to address food insecurity. Partnered with The Hub Sandbox, an entrepreneurship program created by the Community Engaged Scholarship Institute (CESI) and the John F. Wood Centre for Business and Student Enterprise (CBaSE), two University of Guelph students worked alongside the SEED to develop the first product for the Upcycle Kitchen.
Students Laura Frielingsdorf and Kiran Bains, in the College of Social and Applied Human Sciences, worked with the SEED to identify potential products that would transform what would have otherwise been discarded food into compelling "upcycled" products. After testing, creating prototypes, and experimenting with different ideas, the team decided on creating a tomato sauce as the first product.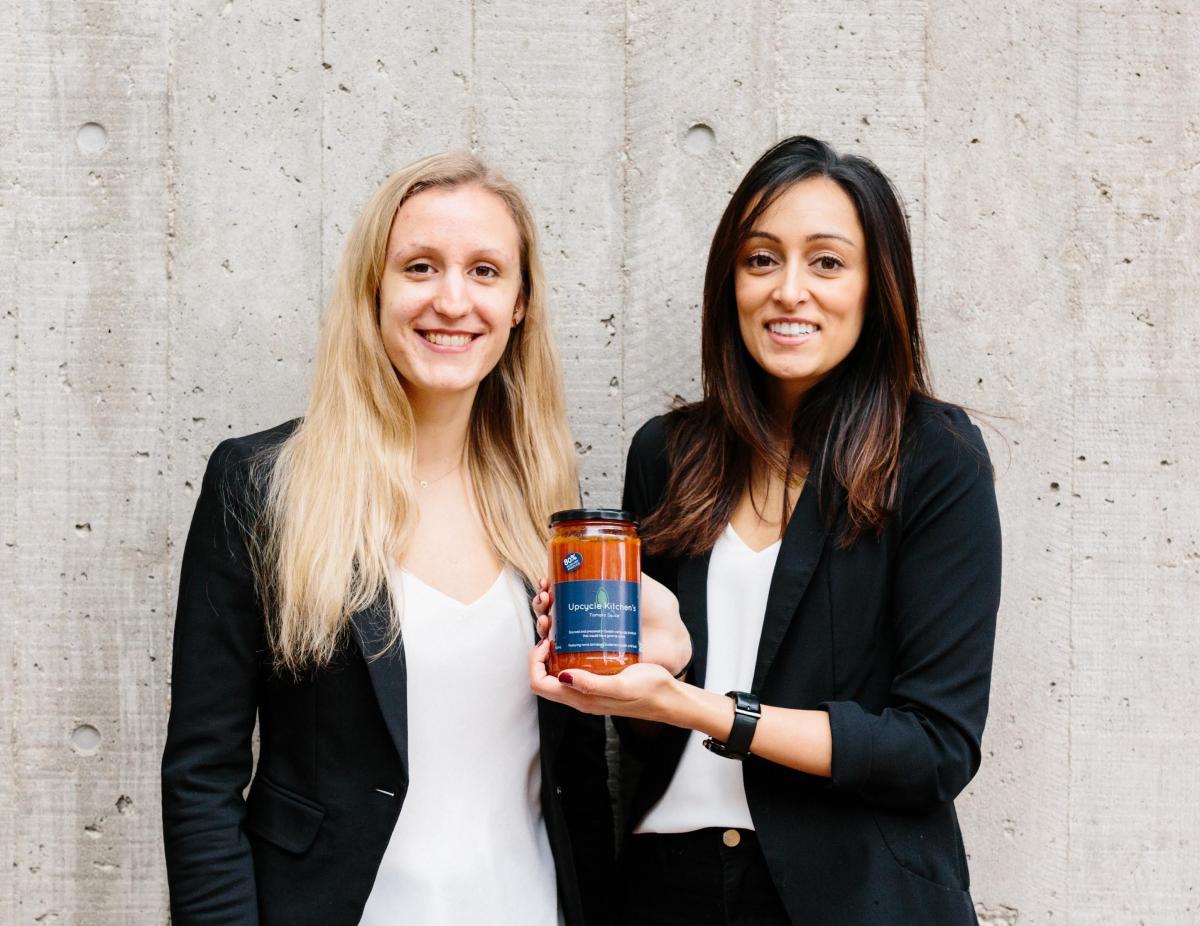 Growing the Enterprise…
The tomato sauce is the first of multiple food items that the Upcycle Kitchen is hoping to create. The SEED is anticipating to expand this project and develop a full menu using mainly upcycled products, supplemented by purchased products only when donations can't be sourced that week. These products will be made available to Guelphites via their Community Food Markets to start, with potential for retail sales, and through small-scale catering services operated by the SEED. Although the business model is yet to be finalized, the SEED has a history of providing affordable food so that all community members can have equal access to healthy, fresh and nutritious food. Moreover, they engage community members in their projects and will be using the kitchen as a means of training and employment of youth facing barriers to employment. This way, these products not only help reduce food waste but also fight food insecurity and build resilience within the community.
The partnership has helped move the project forward in a very tangible way. Tom Armitage, the project lead with the SEED, praised the students' support in the process of selecting a potential product, initiating discussions with a wholesaler, branding the first product, and making connections on campus to the Food Innovation Centre who will further develop the recipe for the tomato sauce.
Tom concluded that "we're light years ahead of where we would have been without [the students]". Upcycle Kitchen is also attracting a lot of attention already: Kiran and Laura won two of three awards offered at a student entrepreneurship competition (including the Impact Award for social and environmental impact), and launched a video to help promote the project.
Creating Meaningful Partnerships
Upcycle Kitchen is one of many projects coming out of a long-term partnership between the University and the SEED, where the expertise and real-life research needs of the SEED are paired with the resources available on campus. Examples of our many mutually beneficial projects can be found on the CESI website, including in this video series.
The Hub Sandbox brings together community engagement and social entrepreneurship to address community identified needs – in this case, to tackle food insecurity and food waste. While the Sandbox supports the development of community-owned social enterprises, for students it represents a one of a kind opportunity to work with established change makers, like the SEED.
This program allows students at the University of Guelph to learn and develop their skills, under the guidance of a community expert. Most notably, the students felt a strengthened sense of confidence as entrepreneurs, with gained assurance in product development and a better idea of where to go for help. This project opened an opportunity for them to work within their own community, changing their perspectives on University and community organizations. This partnership served as a platform for mentorship, networking, and future opportunities, all mentioned as important aspects of their experiences.
So, What's Next?
The successful co-creation of the Upcycle Kitchen social enterprise is the first of what we hope will be many for the Sandbox. The next round of the Sandbox will run from May to July 2019 and we're recruiting! If you're a community organization looking to develop your own social enterprise, or a student wanting to work to support one, contact Sam Laban.
In the meantime, while you wait to get your hands on some Upcycle Kitchen products, try checking out some of the other programs and products the SEED offers! Visit the SEED's website to learn about their many programs or how to get involved.
Find related news by keyword