International Women's Day - Guelph Women's March
Location
10C, Heritage Room
42 Carden Street, Guelph, ON
N1H 3A2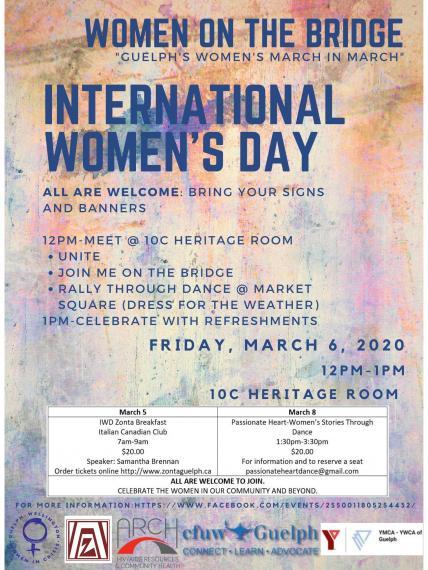 Details
Women on the Bridge Guelph is inspired by the International "Join Me on the Bridge" campaign, which started in 2010 when women from Rwanda and The Democratic Republic of the Congo joined together on the bridge connecting their two countries (who were on opposing sides of war) to show that they could build the bridges of peace and hope for the future. This action sparked a massive global movement that aims to stand with women affected by war to give them strength and promote global peace.
Annually, Guelph-Wellington Women in Crisis focuses on celebrating women and raising awareness of their triumphs and struggles in recognition of International Women's Day. This year, they are collaborating with CESI's Research Shop, CFUW-Guelph and Zonta Guelph for this one-hour celebration in which participants will walk/march to the Norfolk pedestrian bridge, gather for a unity dance at Market Square and enjoy refreshments and snacks back at 10C. Participants are encouraged to bring signs, banners and noisemakers if they desire.

For more information, visit the Guelph Women's Day March event page.
Find related events by keyword