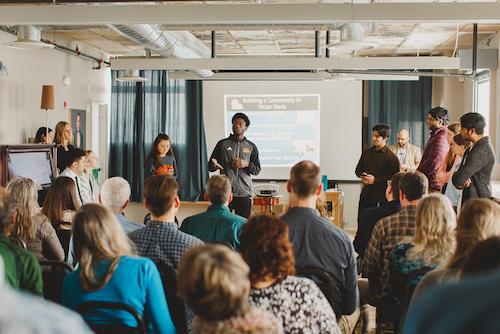 CESI's Community Engaged Teaching and Learning (CETL) program works with faculty and course instructors, students, staff, and community partners who carry out collaborative research in undergraduate and graduate courses. Many of these partnerships stretch across multiple one-semester courses to build on the work that has been done previously and to maintain long-term partnerships with community across short-term course structures. Through the CETL program, students work with community partners across a range of course types, including practicums, independent studies, thesis projects, small seminar courses, and large lecture-style courses. 
CETL partnerships bring people together around common interests in research and practice. Activities may include:
Summarizing existing literature and other knowledge sources 
Conducting original research (i.e. surveys, interviews, focus groups, program evaluation, etc.)
Putting research and other knowledge into action (i.e. knowledge mobilization)
We also support and build capacity in CETL by facilitating initial connections (brokering partnerships) between potential partners and assisting with project planning, implementation, and follow-up.
The program offers a number of supports for CETL, including:
In-person consultations
Workshops, guest lectures and peer learning sessions
Information and networking events
Online resources
CETL related funding opportunities, grant review and collaboration support
The CETL program is led by Lindsey Thomson, Community Engaged Learning Manager.