Skills for Research Impact: Disseminating Research
Location
Virtual event - Register for details.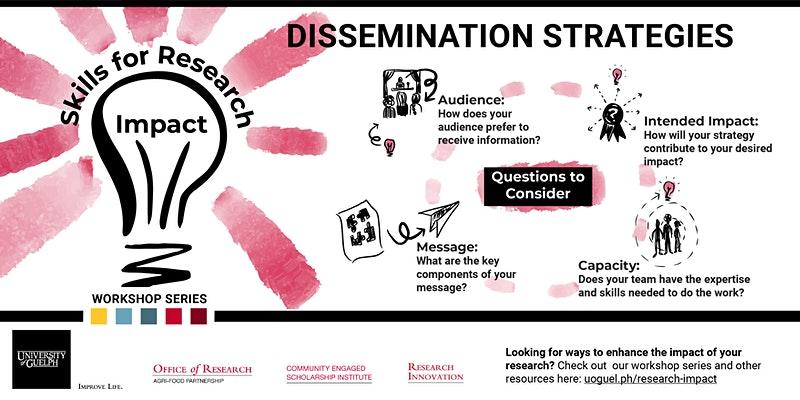 Details
Join us for the third installment of our six-part Skills for Research Impact workshop series!
How do you share your research with non-academic audiences? Learn about a number of potential mechanisms you can use for knowledge mobilization, discover how to choose a mechanism that's appropriate for your audience, and take a deep dive into several popular mechanisms for dissemination, including social media, research summaries, infographics, and media.
By the end of this workshop, participants will be able to:
Recognize various opportunities for dissemination of research to non-academic audiences
Select an appropriate option for dissemination to your audience
List, and apply skills learned related to, popular dissemination mechanisms:

Social media
Policy brief or 2-page summary
Infographic or visual summary
Media outreach

List resources that will help disseminate your research in additional ways
Speaker: Elizabeth Shantz, Knowledge Mobilization Manager, Research Innovation Office
This workshop series is a collaboration between the Ontario Agri-Food Innovation Alliance, the Community Engaged Scholarship Institute (CESI) and the Research Innovation Office at the University of Guelph. For more information, contact us at kttadmin@uoguelph.ca or visit the Skills for Research Impact page for a full listing of all series workshops.
Event Website