Skills for Research Impact: Stakeholder Engagement
Location
Virtual event - Register for details.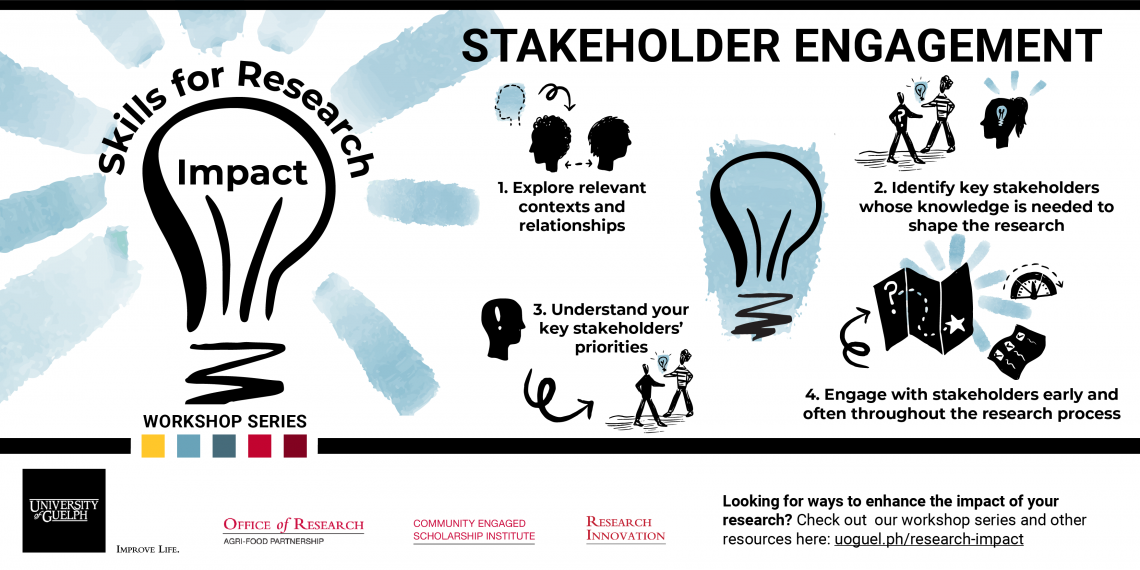 Details
Join us for the second installment of our six-part Skills for Research Impact workshop series!
Engaging your audiences meaningfully is a critical aspect of an effective knowledge mobilization strategy. Reflect on how to connect with relevant stakeholders and support knowledge exchange throughout your research process to achieve your impact goals.
By the end of this workshop, participants will be able to:
Identify a range of key stakeholders and potential goals for engagement
List practical tips and important considerations for graduate students when planning to engage with stakeholders
Understand different levels and types of stakeholder engagement before, during, and following the research process
Understand ethical and equity-based considerations for stakeholder engagement and reflect on key issues to apply in your own research
Speaker: Caroline Duvieusart-Dery, Knowledge Mobilization Coordinator, Community Engaged Scholarship Institute, University of Guelph.
This workshop series is a collaboration between the Ontario Agri-Food Innovation Alliance, the Community Engaged Scholarship Institute (CESI) and the Research Innovation Office at the University of Guelph. For more information, contact us at kttadmin@uoguelph.ca or visit the Skills for Research Impact page for a full listing of all series workshops.
Event Website