Call for Vendors: Communications Contract for the Guelph Lab
The Guelph Lab is inviting proposals from experienced communications vendors who can create content and populate a website for the Lab. This work involves two primary tasks: creating new content about the Lab and its projects; and selecting and populating a simple, off-the-shelf website.
Vendors interested in this project should submit:
a quote (including all costs)
a high-level work-plan / comments on proposed method for completing the work (no more than 1-page in length)
3-5 relevant examples of writing
Submissions should be received no later than April 11th, 2019. All work will need to be completed by August 31st, 2019.
Please see the attached description for more detail on the project and expectations, and contact Sam Laban, Guelph Lab Facilitator, with your proposal and/or any questions.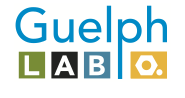 Find related news by keyword