From local to global: a Research Shop project featured at an international conference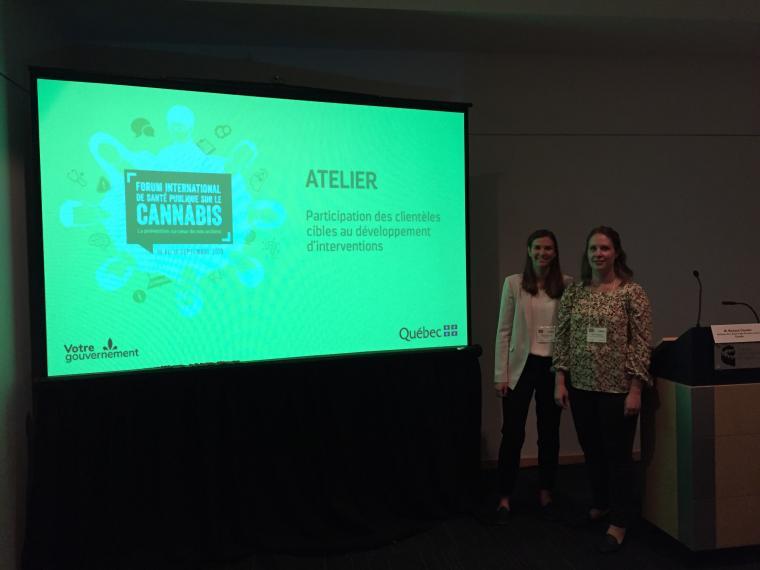 Sometimes local work gains global attention: this was the case last week when CESI's Research Shop was invited to present the findings of a local project at the International Public Health Forum on Cannabis. The forum, organized by Quebec's Ministère de la Santé et des Services sociaux, aimed to share knowledge and best practices related to preventing harm from cannabis use. The forum gathered experts from universities as well as health promotion and policy organizations from across the world. Highlights of the conference included the profiling of various legalization models around the world; discussions of tensions between public health and industry; and sharing of emerging knowledge and innovations in harm prevention.
The Research Shop's contribution was based on a research project completed for the Wellington Guelph Drug Strategy in 2018. Together with Kyley Alderson, Health Promotion Specialist at Wellington-Dufferin-Guelph Public Health (WDGPH), our Research Shop Coordinator delivered a presentation on participatory approaches to engage youth in cannabis awareness campaigns. Specifically, they presented highlights from the literature and their experience involving youth in the development of WDGPH's local cannabis messaging initiative. This presentation allowed to share lessons learned from our work, and observe the impact of locally-anchored projects beyond our immediate contexts.
For more information, contact Karen Nelson, Research Shop Coordinator.
Find related news by keyword