Aftershock Artwork in 10C Window for Black Heritage Month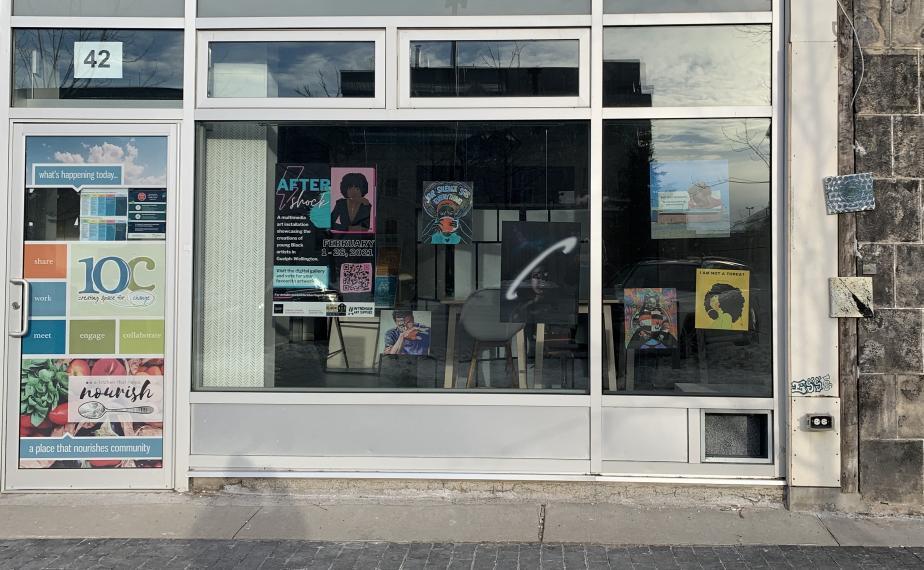 If you walk down Carden Street in Downtown Guelph this month you may notice something new in the 10C window! 10C may be temporarily closed, but we've moved the gallery space to the front window to share some select works from Aftershock.
Aftershock is a multimedia art installation featuring young black artists from the Guelph-Wellington area. This is the second installation of the show, which launched in 2020 as part of a cross-campus CESI CETL collaboration with the Guelph Black Heritage Society (GBHS) that included students and faculty from the Department of History, the School of Fine Arts and Music, and the co-op program. Students and GBHS co-created Aftershock, which opened in 2020 at Capacity 3 gallery in connection with "In Remembrance of Me" -- a photographic exhibit of student work at The Boarding House Gallery celebrating the refurbishment of Heritage Hall and recognizing the site as one of important Black cultural significance for 150 years.
This year, Aftershock has gone digital. The online exhibition features digital drawings, paintings, drawings, poetry, photographs, and short films created by artists under the age of 25 and is running throughout Black Heritage Month. From February 1 - 28 the GBHS invites everyone to visit the digital gallery and vote on their favourite artwork!
Aftershock has also been covered by CBC Kitchener-Waterloo. Virtual Art Installation Showcases Work by Local Black Creators profiles select artists who contributed to this installation and showcases some examples of their work.