CESI Student is a Finalist in the 2022 SSHRC Storytellers Competition
Through their experiences working with CESI and the Research Shop, many students have the opportunity to learn more about knowledge mobilization, which is an integral element of critical community engaged research. Knowledge mobilization plays a key role in allowing the exchange of information and knowledge from the academic community to a wider audience.
Recently, Emily Duncan, Research Assistant at the Research Shop, had an opportunity to apply this knowledge and experience to her own research. The Social Science and Humanities Research Council hosts an annual Storyteller's Challenge as a way for postsecondary students to show the public how their research is affecting their lives, our world, and our future for the better. Sharing stories is an interactive way to educate, entertain, and connect. The competition invites students to create a three-minute video about their research. Emily was inspired to participate in this year's SSHRC Storyteller's Competition to share her PhD research on the social consequences of digital agriculture. Take a look at the video here.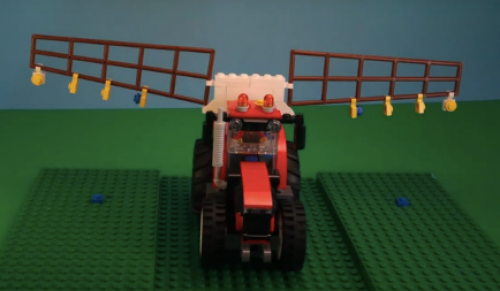 Emily's video was chosen as one of 2022's top 25 storytellers from among 230 applicants. As a finalist, she received an award, a chance at one of the top 5 spots, and the opportunity to attend and learn from a storytelling workshop. In this workshop, she learned some key principles that she then incorporated into her video about her research.
These are Emily's reflections on how to make your knowledge mobilization more impactful:
Put people at the centre – Focus on how to connect with your audience. Let people know how this research relates to their lives. For instance, Emily's research is about technologies in agriculture, which is a topic that might not intrigue everyone. However, we all eat every day, so she used this is a starting point to get her audience to think about how the food they eat is produced.
Accessibility is key – Avoid the use of jargon and choose terms that a general audience will be able to understand. In her academic publications, Emily often refers to financialization and assetization of farmland. In telling the story of her research, she avoids these terms and instead explain that large financial companies that invest money on behalf of their clients are buying up farmland as an asset.
Use concrete examples – Try to use examples that people can picture instead of conceptual terms. Emily's research is about data governance which can be abstract, but she defines it as 'who owns agricultural data' to make it more concrete.
Be succinct – When it comes to knowledge mobilization and research storytelling, being concise is critical. Academic research can be incredibly complicated, however, to effectively share your message it is best to only include the necessary details.
"There are so many unique ways to practice knowledge mobilization. Producing my video for the Storyteller's Competition was a fun and creative process that allowed me to engage with my research in a new way. I hope that other researchers will be inspired to share the stories of their research with the broader community." – Emily Duncan