Becoming a Community-Engaged Researcher and Scholar: A Reflection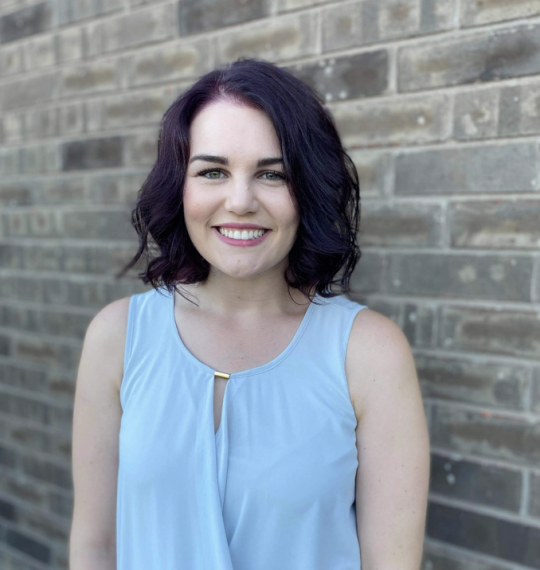 Tanja Samardzic is in the final stages of completing a Ph.D. in Applied Social Psychology at the University of Guelph. Tanja is an applied researcher who uses mixed methods to answer important questions concerning topics like gender-based violence and women's health. Under the supervision of Dr. Paula Barata, her dissertation has explored young women's experiences with expectations of how they "should" be in their intimate relationships (e.g., quiet, nice) and how they navigate relationships, especially when their partners are abusive.
---
A message from Dr. Elizabeth Jackson, CESI Director:
This blog post features insights from Tanja Samardzic, CESI Research Assistant. Through a pilot program offered at CESI that embeds students directly into community engaged research organizations, Tanja worked with CESI Research Associate Dr. Mary Ferguson.
This pilot program differs from other curricular and co-curricular offerings at CESI; Research Assistants become part of the team at affiliated community-engaged research organizations, learning their culture and workflow, meeting their networks, and receiving deep mentorship from highly experienced and principled community-engaged researchers. Over their time as Research Assistants, the students develop a broad range of skills at all stages of project cycles.
This embedded researcher model represents an opportunity for graduate students to bridge the gap between academia and the workforce through a range of skills and experiences, detailed below by Tanja, that work to prepare them for the transition as they leave campus and enter into the workforce. 
---
I arrived to pursue my Ph.D. in Applied Social Psychology at the University of Guelph in the fall of 2019 after having completed my Honours B.A. and M.A. degrees elsewhere. I had read about CESI and the prospect of being involved with it was influential in my decision to apply to the University of Guelph. I even told my advisor in my interview with her that I wanted to work at CESI as soon as I could. I answered a hiring call and, fortunately, I was hired and started a position in January 2020. Rather than working at the Research Shop, where many students work with community organizations to conduct community-engaged research, I worked with a Research Associate and another graduate student on a plethora of community-engaged work. For the past three years, I have worked alongside Mary Ferguson, Ph.D., a CESI Research Associate who connects students with community-engaged work through her research and planning practice at Eko Nomos and as chair of the non-profit social enterprise Sustainable Livelihoods Canada.
Through this role, carrying out what Cynthia Gordon da Cruz would call "critical community-engaged scholarship," I have been involved in over 20 projects connected to community organizations in Ontario. These organizations have varied greatly and have included social enterprises (e.g., Operation Grow), Indigenous organizations (e.g., Nishnawbe Aski Nation), collaborative partnerships (e.g., In Good Company), funders (e.g., Canadian Women's Foundation), planning and coordinating organizations (e.g., Woman Abuse Council of Toronto), and women's centres (e.g., North York Women's Centre). Some organizations have engaged us in work that occurs annually (e.g., analysis of data from clients that comes out at the same time each year), some have been project-based (e.g., a needs assessment or environment scan), and some have been multi-year funded projects (e.g., Canadian Women's Foundation's Rebuilding Lives granting stream evaluation).
Through this role, I have been involved in the following:
the development and review of evaluation documents (e.g., logic model, theory of change, output monitoring, outcome documentation strategies)
work planning
evaluation design work
the analysis of qualitative and quantitative data
team capacity-building workshops and exercises
participating in meetings with stakeholders, including executive directors, consultants, front-line staff, Indigenous peoples, funders, and municipalities

providing support during calls (e.g., note taking)

grant writing and providing feedback on grant applications
conducting literature reviews, needs assessments, and environmental scans
review of provincial/territorial and federal policies in areas like housing, income assistance, immigration, and employment
outreach activities
project management (e.g., coordinating interview scheduling with grantees)
final report writing and editing
drafting presentations and final reports to relevant stakeholders

this includes the presentation of a final report in an alternate format (e.g., chart, PowerPoint)

presentations to stakeholders (e.g., a recent presentation at the Canadian Women's Foundation's September community of practice for the Rebuilding Lives granting stream on the policy work we have been doing)
knowledge mobilization/translation activities
Despite doing this work for several years, it was not until I started applying for community-based employment opportunities that I really stopped to reflect on what I had gained from this role.
I realized the transferability of my knowledge and skills. My work with CESI has allowed me to better understand and sometimes address some of the constraints that community organizations looking to do evaluation and research work experience (e.g., paywalls regarding access to academic literature, lack of capacity, limited knowledge about conducting evaluation work, limited funding to support this type of work). I was able to conduct research and save relevant peer-reviewed articles for them to use later, as well as support the work and take the onus off the front-line staff who already had too much responsibility. My role was also not contingent on an organization receiving funding or carving out room within their existing funding to engage in this work.
This work has been so connecting and inspiring, especially during the disconnecting time of the COVID-19 pandemic and its associated restrictions. As I noted, I started working with CESI just before the pandemic hit and while others were severely impacted by it, our work continued without much disruption. The community partners that we worked with had pivoted online to varying degrees and they continued to prioritize our work with them. The power of Zoom coupled with a dedication to the work meant that we were busy throughout, which was a welcomed distraction from the loneliness that many graduate students felt during that time.
I have created connections with key contacts at the organizations that we have worked with over these few years, which has been beneficial as I now emerge into the workforce and seek employment. It is also something that will be helpful to me down the road should I be employed somewhere where partnership-building is a key facet of the role, as I have increased my capacity to understand and broker community research priorities.
I have refined my approach to the work that I do, especially with the adoption of an intersectional, gender-based analysis plus lens. Especially impactful was the work with the Canadian Women's Foundation (an extension of the Woman Abuse Council of Toronto's "Policies Matter" work). The incorporation of an intersectional lens allows for an understanding of the ways that identities combine and interact to create different conditions of privilege and/or oppression. A gender-based analysis plus lens allows for an understanding of the impacts of programs, initiatives, and policies on people (e.g., women, gender diverse people), and considers other elements of one's identity. As I move forward in my work, I am acutely aware of the need to apply such an analysis to the development or refinement of programs, initiatives, and policies to ensure well-being and reduce violence for vulnerable populations.
I have gained lasting connections with Mary and other important colleagues. I have relied on Mary for advice, support, and connection around our shared projects and what was going on in each other's lives (e.g., my parents' dog, Mary's baking). I also have been fortunate in having a two-year-long working relationship with my former colleague Molly Contini, which has grown into a lasting friendship. 
Upon entering the job market, I find that have been able to say that I bring "multiple years of community-based research and evaluation experience," which most graduate students do not acquire until after they have completed their degree. But it has been a symbiotic process. As much as I have gained from this work, I know that I have equally contributed to the advancement of the important work that the CESI team does by providing support, feedback, and insights for community based agencies to improve their work. This position has been deeply impactful to my growth as an applied researcher and scholar.