The Sandbox: Building social enterprise capacity in students while supporting local organizations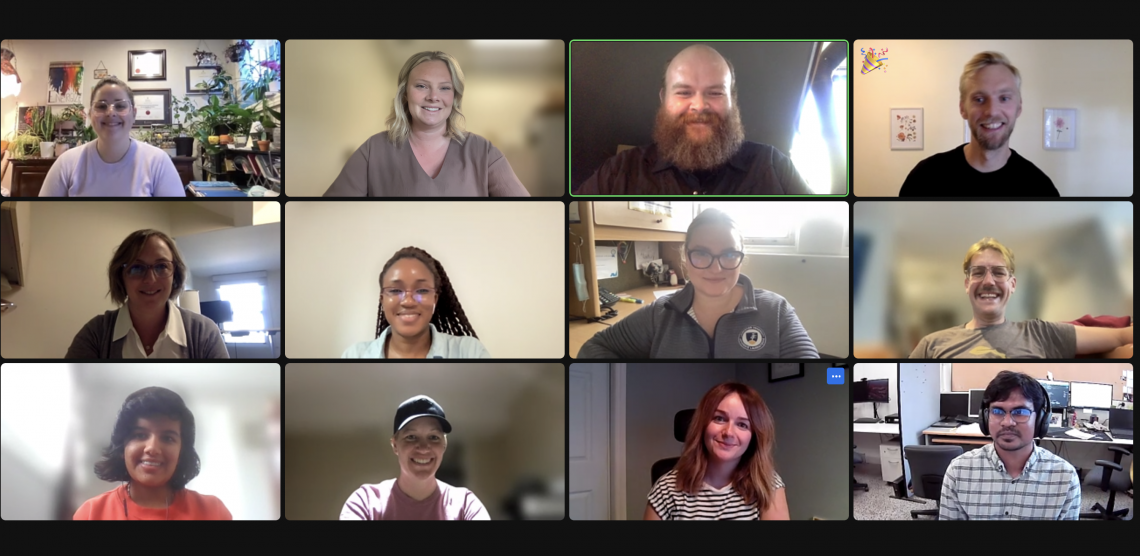 For many graduate students, it can be challenging to decide on the next steps career-wise, which is why opportunities that allow students to put theory into action and contribute to positive social impact can be especially helpful. This is where The Sandbox comes in. 
The Sandbox is a joint initiative run by the Guelph Lab and the John F. Wood Centre that provides graduate students at the University of Guelph (U of G) with a unique, co-curricular experiential learning opportunity. Each year, local organizations in Guelph and Wellington apply to be paired with interdisciplinary student teams to help them develop and launch a high-impact social enterprise.  
Students who are accepted into The Sandbox take part in a specialized social enterprise program that consists of two phases spanning from September to mid-February. During the first phase, students are trained on the basics of social enterprise through weekly workshops. In the second phase, students apply their learnings and work closely with the community organization, another student team member, and a Social Enterprise Coach to help launch the idea of their respective organization. 
While focused on social enterprise, each of the projects is unique. Over the 2022/2023 academic year The Sandbox worked with four different, local community organizations: Hope House, Art Not Shame, Habitat for Humanity, and the Community Resilience Coalition. 
Hope House offers programs for vulnerable individuals in the Guelph community, with a focus on food insecurity. They were interested in expanding their social enterprise, the Better Food Company (BFC), which sells meals prepared by local chefs to support the Hope House farm. Through The Sandbox, their student team conducted interviews and surveys to gain feedback from the community. They also created an insight report, which ultimately informed the BFC that diversifying their meal options would be a good route of expansion. 
The Community Resilience Coalition of Guelph and Wellington is a group of community stakeholders taking action on Adverse Childhood Experiences by helping to reduce risk factors and increase resilience. Their student team helped to conduct interviews and created a summary report to explore how their existing resources and training tools could be leveraged as a source of revenue.  
Habitat for Humanity Guelph Wellington builds affordable housing. They operate the social enterprise ReStore, which functions as a retail business that sells new and gently used furniture, appliances, and more to help fund their programming. Their student team assisted them with expanding this enterprise by developing new revenue ideas and raising awareness. 
Art Not Shame is a community-engaged, multidisciplinary arts organization serving youth and adults in Guelph. They recently secured a 2,000-square-foot space in downtown Guelph; in addition to using the space for their own activities, they wanted help to explore new revenue strategies, such as rentals or memberships. Their student team conducted interviews with similar organizations elsewhere and assisted with financial planning activities to determine how this could be done. 
In addition to providing a novel method of collaboration and creating strong links between U of G and its surrounding community, The Sandbox has had positive impacts on both community partners and student participants. 
"The partnership [with the Sandbox] has been invaluable to me as an arts manager, and more broadly, to our organization," says Jillian Cockburn, the Director of Operations at Art Not Shame. "[The students] exercised such care and intention when engaging with our team, and created a supportive environment for folks to share their thoughts and ideas. The results of this project will largely inform the direction that we take as an organization, which will have a tremendous impact on our future. It has truly been a joy to work with [the] team and I'm so grateful that the Sandbox program is available to community-benefit organizations like Art Not Shame," adds Jillian 
Along with increasing their capacity to tackle a social enterprise plan, The Sandbox offers community organizations the ability to draw on the diverse skills of student researchers from graduate programs across campus. 
"Being able to bring someone in with a research background to help us connect with our customers in a way that we aren't able to on our own has been very useful," says Justin Chan  
For students, The Sandbox provides a unique opportunity to learn from community expertise and tackle an issue or question based on community priorities. As well, students gain hands-on experience launching a social enterprise idea. Recent student participants reported that the program helped improve their skills in research, project management, communication, and teamwork, which are valuable skills for future employment. As well, the program gave them a better idea of career paths post-graduation and a better understanding of business and industry, while allowing them to contribute to social change. As The Sandbox takes place outside of class time, each student in the program also receives a stipend informed by the living wage rate for Guelph. 
"Overall, the Sandbox was a tremendously useful learning experience. It challenged and helped me to think practically and to apply the research skills I have obtained," says a student from this year's program. 
Moving forward, the Sandbox is looking for more sustainable ways to grow and deliver the program to be able to offer experiential learning opportunities to more graduate students at U of G. 
If you are a local community organization in Guelph and Wellington looking to launch a social enterprise, consider reaching out to learn more about this program. You can receive increased support and resources to launch your ideas while providing graduate students at U of G with an invaluable opportunity to learn the fundamentals of social enterprise development and the real-world experience of doing so.