The Sandbox is Recruiting Early-Stage Social Entreprises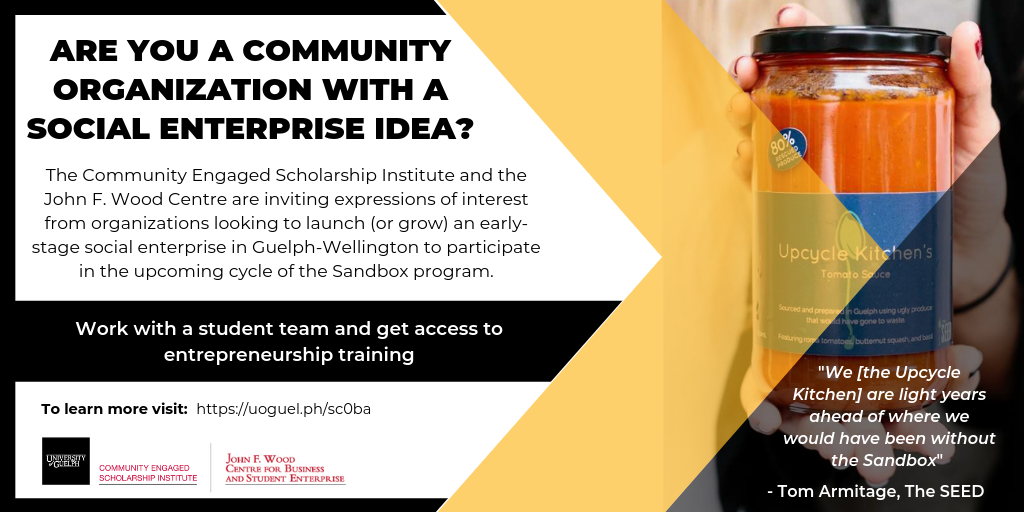 CESI and the John F. Wood Centre are inviting expressions of interest from community organizations looking to launch (or grow) an early-stage social enterprise in Guelph-Wellington to participate in the upcoming cycle of the Sandbox program. The Sandbox pairs interdisciplinary teams of students with community organizations in order to grow their enterprise, supported by seed funding, training and mentorship.
"We're light years ahead of where we would have been without the Sandbox" - Tom Armitage, The SEED Community Food Project, whose social entreprise Upcycle Kitchen was launched through the Fall 2018 Sandbox.
Participating community organizations will get:
​Support for their early stage social enterprise, from customer discovery and refining the business model, to logistics, prototyping products and branding
The option to access entrepreneurship training
​Organizations will be supported by a team of students working on this project for up to 30 hours a week over the fall semester (September to December 2019). Community organizations will nominate a staff person who will meet regularly with the team and work with them to develop the entreprise.
​Contact Sam Laban to talk about your social enterprise idea!