Building an Affordable Food Map for Newcomers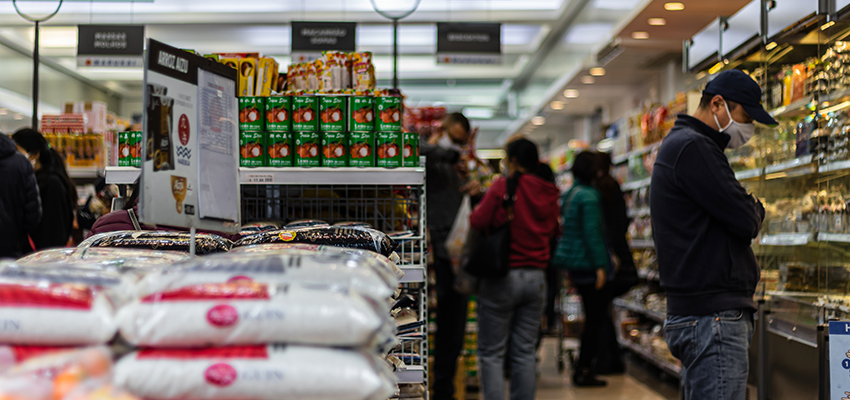 Community engaged teaching and learning (CETL) has the potential to offer high impact to both community partners and students and to spark positive, community-driven change.
A recent project supported by the CESI CETL program illustrates the power of combining campus and community skills and knowledge for the mutual, yet unique, benefit of each party.
The Affordable Food Map for Newcomers project matched two students in the Department of Geography, Environment and Geomatics' capstone GIS course Applied Geomatics with Chalmers Community Services Centre to investigate the relationship between marginalized groups, food access, and affordable transportation in Guelph.
Chalmers is an emergency food provider for those living in Guelph who are experiencing food insecurity. Noticing that the demographic of their guests was shifting to include many newcomers, they were interested in learning how to better support their health and wellbeing – especially by providing improved access to fresh, healthy, culturally-appropriate food.
Working in collaboration with Chalmers, the students first determined that, in Guelph, there were no existing studies that identified food availability while also considering the affordability and healthiness of food, as well as affordable transportation methods to the food outlets. They then identified and located all Guelph food outlets and labelled each with a health class (healthy, moderately healthy, unhealthy) and an affordability class (free, affordable, costly) and created two GIS models that simulated walking and bussing around the city.
Overall, they found that only a small proportion of neighbourhoods in Guelph had free food sources that were accessible via walking. They also identified that, while affordable food outlets were fairly evenly distributed throughout the city, most of those reachable by foot were not considered to be 'healthy.' Finally, this study demonstrated that food access is affected by marginalization more strongly at the edges of Guelph regardless of transportation, and that northwestern and southeastern Guelph are considered food deserts – meaning that there are very few food outlets of any kind.
Due to the engaged nature of this project, there were a number of products created to meet the needs of the students and the partner. To satisfy their course requirements, the students created a poster and storyboard that told the story of the project and focused on the methods, limitations, and results of the study. At the request of the community partner, the students also created a brochure that mapped free and low-cost healthy food options in Guelph, their hours of operation, and accessible bus and walking routes leading to them. This brochure has since been turned into a large-scale map.
This project has had significant benefits for all collaborators, which in turn extends to members of the Guelph community. It offered a community engaged learning opportunity that enabled the student team to build on-the-ground experience and apply their academic knowledge to a real-world question. It came with unexpected benefits for the students as well, as they were awarded an Esri Canada GIS Scholarship for their work, which included a cash award, specialized software license, books, and continuing learning opportunities.
This project also begins to address a gap in knowledge around marginalization, newcomers, and food access in Guelph that was identified by Chalmers based on their deep community ties and first-hand knowledge.
Finally, it has provided a resource that can be used by the community to help mitigate food insecurity and its impacts among newcomers and other marginalized groups. The affordable food map and brochure are available in-person at Chalmers, Hope House, and other emergency food providers in Guelph, which ensures that this information is available to some of the most vulnerable groups in Guelph Wellington.
The Affordable Food Map for Newcomers is just one piece in a series of community engaged projects between Chalmers, the CESI CETL program, and U of G students of every level. It is a key example of the cross-organizational collaboration that highlights Chalmers' commitment to building a network of care with other providers, sharing resources, and coordinating efforts for maximum impact and community benefit.
Most significantly, it serves as a resource for newcomers just settling in Guelph, and any others who may need assistance in finding healthy, affordable food in their area. Born out of an identified priority in the community, this work is supporting Chalmers and other community organizations as they work to improve access to free and low-cost healthy, culturally appropriate food in Guelph, thus mitigating food insecurity and its health impacts among newcomers and other marginalized groups.