A successful meet and greet enables connections between campus and community staff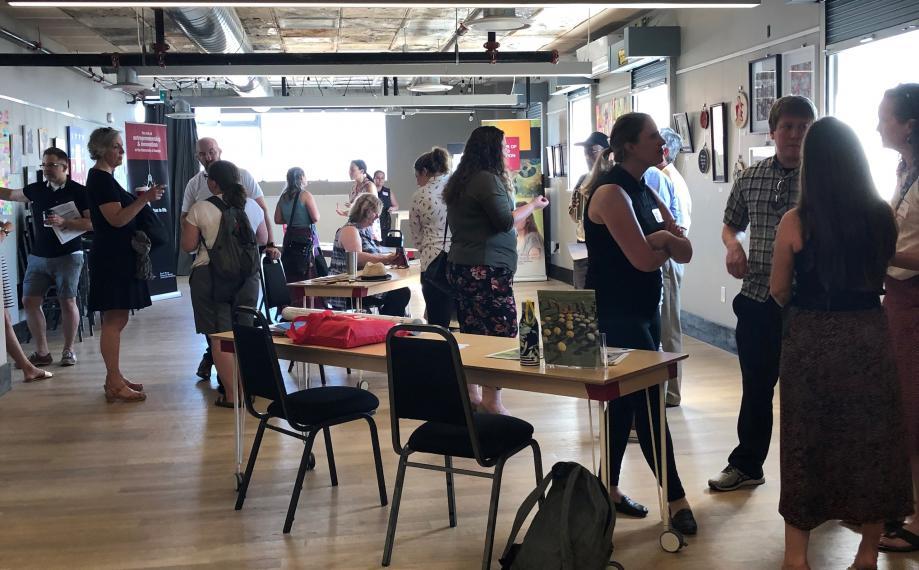 As part of a newly formed UofG Engaged Learning Collective, CESI took part last week in the first in a series of Campus Community Partnership Conversations planned for the coming year. The event, which was hosted at 10C Shared Space, invited community groups, social innovators, small businesses, arts organizations, advocacy groups, social purpose initiatives, and those in science and technology to meet and chat with university staff from across campus who help to facilitate community-university partnerships.
The meet and greet was an informal way for local organizations to find out about the kind of work being undertaken at the university, to identify various entry points for community-university collaboration, and to find the right contact person for their organizational needs. Over 30 organizations attended to browse through university projects and talk with staff representing the College of Social and Applied Human Sciences, the College of Arts, Student Experience, the Gordon S. Lang School of Business and Economics, the  College of Biological Science, the College of Engineering and Physical Science, the Arrell Food Institute, and the Ontario Agricultural College.
There was a palpable buzz of excitement in the air as university staff and community members talked about shared passions and goals. One community health provider expressed that her heart felt "so full" after the event, while another said that she felt "so welcomed by the university."  In the words of another attendee, "we have been waiting for social/networking events like this. It's not easy for us to organize events like this, so anytime such events are organized in the future we are here!" Happily, the UofG Engaged Learning Initiative is already planning some more! Keep an eye on CESI's events page for news of future Campus Community Partnership Conversations, or email the Collective for more information.
Find related news by keyword